Fitness Marketing Agency, the largest marketing agency for gym owners in the UK and Ireland held its biggest Mastermind event yet on the 19th of October 2022 at the Amex Stadium in Brighton. With over 200 clients in attendance, the day was filled with a huge sense of community, new connections, and the knowledge to be successful.
FMA's Mastermind is a one-day event that has the power to impact you and your business. The day is not just about motivating and inspiring you to grow and develop but to open your mind up to skills and strategies that you can directly implement straight into your business.
Why attend Fitness Marketing Agency's Mastermind events?
1. The power of networking
Having 200+ entrepreneurs in the room gives you the opportunity to build your support network and creates a powerful community. You can't do it alone. This event allows you to connect with like-minded Business Owners and Entrepreneurs, some of whom you may aspire to be like, who you can connect with and share knowledge with, in order to grow your business.
2. Building a growth mindset
Mindset is the foundation of a successful business so this is where you need to start. Consistent happiness as a Business Owner allows you to make better decisions and be present. Working on your mindset needs never-ending improvement and Mastermind gives you insight into how to make this happen.
3. Goal Setting
Throughout the day you will start effectively goal setting and envisioning what you want your future to look like and most importantly how you can make it happen. Learn what is important to you, what is your why, your mission, and your passion.
4. Specific industry knowledge
Industry experts talk all things investment, gaining a second location, sales and so many more things you need to learn and understand. Mastermind gives you the opportunity to learn things that you can implement into your business from the moment you leave and allows you to gain a whole new perspective on certain areas of your business as well as growth opportunities.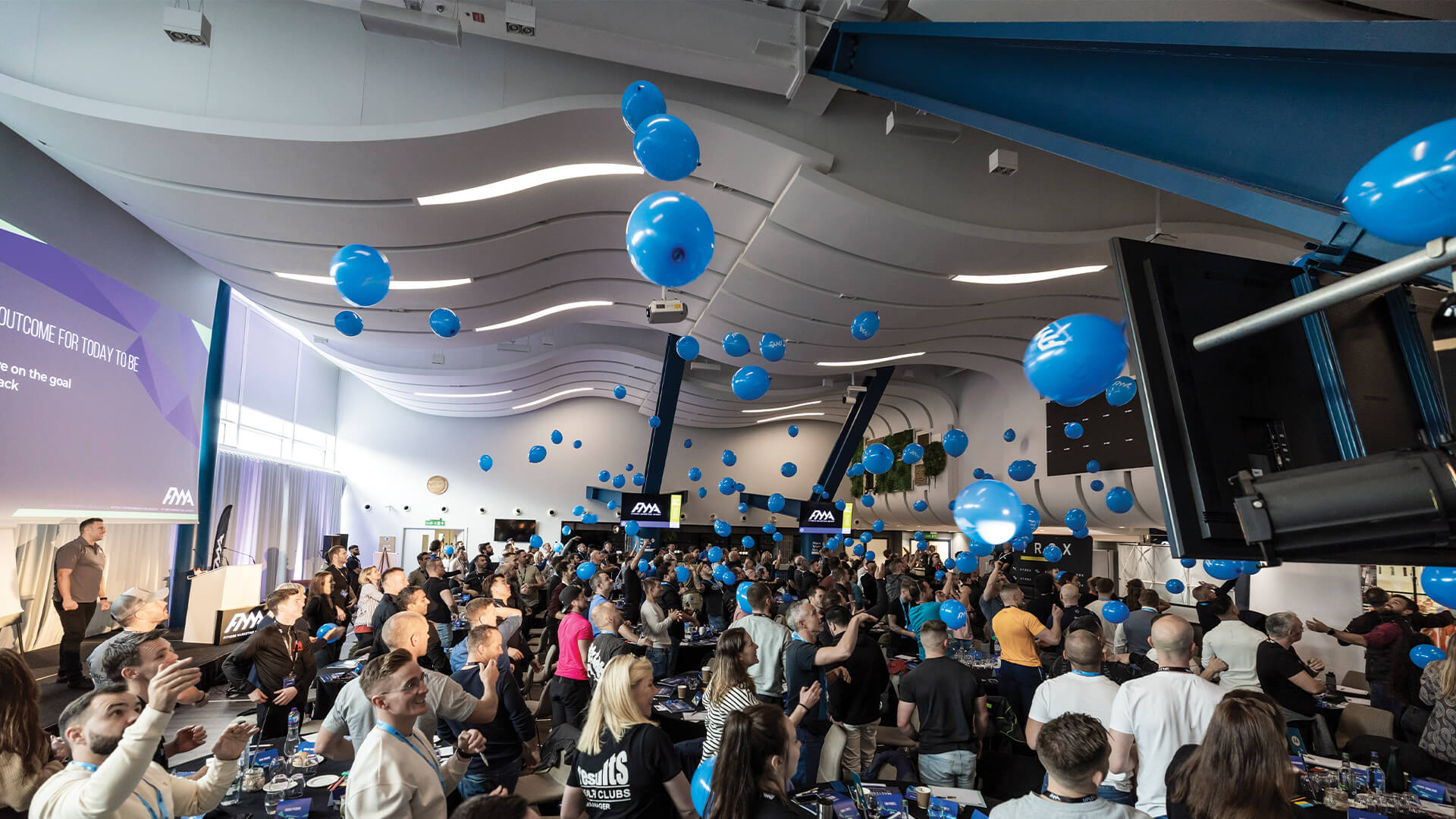 What did the Brighton Mastermind consist of?
International Motivational Speaker

Members sharing behind the scenes of what's working now

Industry Wellbeing expert

Round table breakout sessions

Networking opportunities

Amazing food to fuel your day!
Fitness Marketing Agency's first keynote speaker was Steve Judge a Paratriathelete World Champion, Author, and International motivational speaker.
Steve got everyone thinking about what it is that gets you out of bed in the morning and understanding the importance of being aware of your vision in order to seize opportunities. Steve talked about his own journey of recovery, resilience, and persistence after being in a tragic car accident and being told he may never walk again.
He learned he needed to focus on what he needed to achieve not what he wanted to avoid. Steve talked about keeping yourself accountable – the need to push yourself out of your comfort zone consistently in order to work towards your goal.
Steve left the stage with his final message 'do not lean on your excuses, instead, turn them into challenges'.
Next up at Brighton Mastermind, we heard from FMA's own clients who are experts in their field, educating attendees on business specifics in the Fitness Industry.
Who were the Speakers?
Russel Grant (Busy Man's Fitness Club, Essex) has been working in the industry for 17 years. Russel's talk 'Who has ghosted who' had a lasting message of don't give up on someone. You don't know when they will come back to you and how much they need you.
Russel was attached to the money and profits and it was only when he reattached himself to his purpose, the impact of his mission, and his deep meaningful why that his business became a success. He shared the message to show up for people even when they are 'ghosting you' because you don't know what they are going through and what's going on in their life, don't make it about you, make it about them. Your why is what will stop you from quitting!
Mani Johal (Fight City Gym, London) who has been in the industry for 9 years talked about how to raise investment to grow your business. Mani covered the different types of loans you can get and how you can be investment ready including how to create an investment deck and an executive summary. Mani educated FMA's clients on the finance mindset and the tools they need in order to get funding.
Liz Penny (Sweat, London & Winchester) has been in the industry for 18 years. Liz talked about the 5 lessons she learned from opening a second location. Liz focussed on location, size, how to learn and evolve, the importance of research, and getting back to basics. This gave FMA's clients the opportunity to ask specific questions to help them start thinking about developing their businesses and opening a 2nd site.
Ronan Mahon (Movement Fitness, Dublin) has 11 years of experience in the industry and has had major success using the one-call close script which helped him close over 300 clients this year in 15 minutes or less. Ronan gave an incredible insight into his sales process and broke down exactly how FMA's clients could replicate this in their business.
Industry wellbeing expert Ollie Patrick, FMA's next keynote speaker opened up everyone's minds to wellness being a major part of health and fitness that is rarely implemented. Ollie is at the forefront of the industry when it comes to wellness with over 20 years of experience delivering, creating, and governing executive health screens, advanced health assessments, and corporate wellbeing facilities.
The knowledge and insight Ollie brought at Mastermind undoubtedly opened up major discussions and questions giving the opportunity for FMA's clients to grow, develop their knowledge and even bring something entirely new to their businesses.
There are so many people out there who are in desperate need of help and the education Ollie provides will allow so many Fitness Business Owners to start giving much-needed support to their clients. Not only can you help an incredible amount of people but the well-being industry was worth £23 billion in the UK in 2020 so there is so much opportunity to add revenue to your business by exploring this.
Having recently launched Martial Arts Marketing Agency it was amazing to see Piotr Fajecki (MMA expert) connect with MMA's clients in a breakout session at Mastermind. The focus of the conversations was how to adapt marketing and sales techniques to a Martial Arts business model. How to implement selling systems and how to stop undervaluing your service. This powerful session allowed MMA's clients to alter their mindset on the things that have been holding them back and instead step out of their comfort zone and implement the things they have learned into their business.
Fitness Marketing Agency is so much more than marketing. One goal of Mastermind is to connect you with experts who can help you make your business more successful. Round table talks allowed FMA's clients to connect with industry experts as well as companies who partner with FMA.
Round table talks included FMA CEO Ben Davis who educated clients on the strategies and tools to recession-proof their businesses. Dan Aguilera from Fitness Business Profits talked about member retention and how you can create a high-performance culture. Nicky Sehgal from Fitness Business Development Academy focussed on the 6-step process to business financial clarity.
Charlie Horton who is the Sales and Marketing Manager at FMA helped clients develop their upcoming marketing strategy and alter a mindset shift into the bigger picture of marketing. FMA's partner Swoop educated clients on how they can get funding for their business, the different options that are available, and how to know what is right for them.
Fitness Marketing Agency had a number of their partners at the event including Swoop, Hyrox, Grenade, FBP, FBDA, Amex, Wellbeing Fitness, InternetFitPro, and LegitFit giving further opportunities for FMA's clients to network, engage, build relationships and explore ideas in order to grow and develop their businesses.
FMA's Mastermind events are exclusive to their clients. The day is incredibly valuable, allowing clients to step out of their own business for one day in order to work on their business. It can be isolating and lonely building a business and Mastermind gives you a community of like-minded people who are willing to share ideas, inspire, motivate and collaborate.
Fitness Marketing Agency's Mastermind is at the forefront of the industry and an event that is truly special for all those who attend. FMA's next Mastermind Event is in Dublin on the 2nd of March 2023.
For more information, book your discovery call here: https://fitnessmarketingagency.com