On the 24th September 150 Fitness Marketing Agency clients joined us at Anfield Stadium, against the backdrop of Liverpool FC's pitch, for a day of networking, planning for their business and sharing ideas. It was our 11th Mastermind and our biggest one yet, featuring heavyweight speakers, lightbulb moments and strategic planning for the year ahead. Here's a recap of what went down on the day…
On arrival all clients were met by the FMA team and given their official lanyards, a gift bag and a limited edition Mastermind T-shirt, before being served tea, coffee and pastries by the Anfield staff while they networked with fellow gym owners. After slowly making their way to their allocated seats they found a workbook waiting for them to help them get the most out of the day.
Ben kicked off the day's sessions with an interactive talk on Strategic Thinking, and clients were surprised to find scratchcards taped to the underside of their seats, they were given the choice of sticking with their own card or swapping with someone else, demonstrating the importance of calculated risks. Although there were no big winners from the scratchcards, everyone walked away from the session with something they didn't have before – be it knowledge, inspiration or confidence.
Following Ben's session was a break, giving clients an opportunity to get to know each other and make connections before settling back down for the most highly anticipated talk of the day – from our Keynote speaker Damian Hughes.
Damian gave our clients a fascinating insight to the Psychology of High Performance, highlighting the importance of keeping things simple, the effect of heuristics on your life and business, and why emotional intelligence is the key to getting the best out of people. This keynote speech had an impact on everyone in the room, featuring a mini movie quiz and Damian's own version of The Generation Game.
Our clients had the opportunity for more networking over a buffet lunch and once we were back we heard from 4 of our FMA clients during our TED X talks. Piotr Fajecki, Callum Eckersley, Gavin Denning and Josh Rylatt shared their own experiences and tips for their fellow gym owners, before the room was opened up to a Q&A. Some really useful insights were gained and it was great to see these clients leading from the front.
Following the final break of the day the room was split into UpLevel and 90 Day Momentum clients. Our Momentum clients attended the Chemistry Lounge to hear from the inspirational motivational speaker Pete Cohen, Fitness Business Profits' Dan Aguilera and the FBDA's Nicky Sehgal talk on business models and finance. The session finished with an open Q&A from our Sales Panel featuring Fitness Business Owner and education provider Ian Ryves and members of FMA's sales team; Charlie and Luke.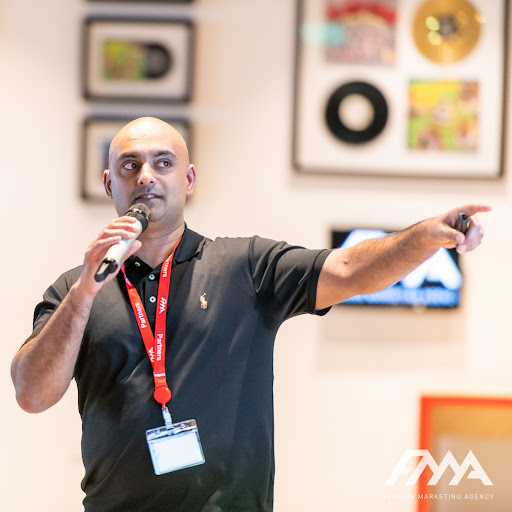 Our UpLevel clients stayed upstairs to hear from Profit First ambassador Duncan Lloyd of Cloud Accountants who talked about how the tried and tested Profit First system could work for their business, this was followed by the longest Q&A of the day! It was great to see our clients digging deep and focusing on the numbers – a crucial aspect of running a business. To end the day, everyone regrouped for the second half of Ben's Strategic Thinking session, and left with a clear plan of how to improve their business when they returned home.
It was great for the FMA team to meet some of our clients face to face, the take home from the event was priceless for both staff and clients. Our clients left the day feeling motivated and bursting with ideas for the year ahead as did the FMA team.